Best Ways To Squirrel Proof Our Bird Feeders
What Should You Not Feed Squirrels?
If you like feeding squirrels, you want to make sure that the food you give them isn't dangerous. The two main issues with feeding squirrels are filling them up on foods that have little or no nutritional value or foods that are outright dangerous.
Junk Food
This includes salted and sugared snacks. Just like in humans, these are fillers and have little nutritional value. The salt is also very bad of squirrels while the sugar has much the same effect as in children. Squirrels are hyper naturally and sugar gets them even more excited which is bad for their overall health. Other junk food such as pizza, hot dogs and so on are very bad for squirrels and aren't part of their natural diet.
Corn
You can feed squirrels a little corn cut up in pieces but never a whole since squirrels have a tendency to overeat, sometimes even to death. Corn also turns sour quickly and grows mould so make sure that the corn is good to eat before feeding. Mouldy or sour corn can be toxic and even fatal to squirrels.
Breakfast Cereals
Breakfast cereals have no nutritional value for squirrels. They are happy to gorge themselves but this is basically filler that does nothing for them. This can easily lead to severe malnutrition. Cereal is definitely not part of a squirrel's natural diet.
Pet Food
Doesn't matter if it cat or dog food, again, meats aren't part of a squirrels natural diet. Squirrels are vegetarian and can actually die from pet food for its high meat content.
Feed squirrels nuts, fruits and vegetables that are found in your local area.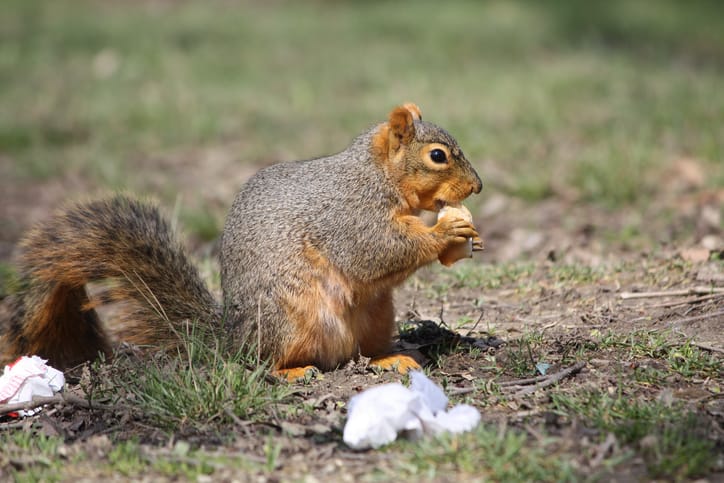 Why you shouldn't feed the squirrels
We actually don't encourage feeding squirrels. I know some people find enjoyment in this but there are some considerations to keep in mind:
If squirrels are dependent on handouts, it can prevent them from foraging on natural food sources. This can lead to health issues if they're not getting the proper nutrients.
Squirrels can lose their natural fear of people when they begin to associate people with food. While you love squirrels, others in your neighborhood may not and could react differently to a bold or approaching squirrel.
Feeding can also cause an unnatural number of squirrels to congregate in an area, larger than what the surrounding natural resources can support. This can lead to an increase in the spread of diseases.
It can also spell problems with your neighbours if squirrels start digging up their flowerbeds, chewing on their windowsills or nesting in their attic.
However, just because you shouldn't feed squirrels doesn't mean there isn't anything you can do for your backyard visitors.

How to Attract Squirrels to Your Backyard
Squirrels are found all across North America in both rural and urban settings. While many people try to repel squirrels from their backyard, others appreciate the flurry of activity these fluffy rodents add to a landscape. Attracting wildlife, such as squirrels, to your backyard requires a variety of strategies to make your home's landscape friendly and inviting.
Provide natural cover in the forms of hedges, shrubs, tall stands of ornamental grass, and stacks of wood or logs. Squirrels are naturally skittish and don't like wide open spaces, and thick vegetation throughout your landscape provides them the cover that makes them feel safe and comfortable.
Plant a few squirrel-friendly trees. Such trees have various qualities that specifically attract squirrels, such as edible nuts or flowers, branching structure that creates the hollows and crooks that squirrels like to build their nests in, and easily scalable bark. Examples of trees popular with several types of squirrels include conifers such as spruces and pines, and deciduous trees such as willows and aspens.
Offer squirrels food to quickly attract the hungry rodents. Scatter corn on the ground at the base of trees, hang corn cobs from tree branches, and fill bird feeders with nuts that are popular with squirrels, such as walnuts, hickory nuts and acorns. Replace the food as it gets depleted.
Provide a source of fresh, clean water in a shallow tray or bowl. Place several of these dishes throughout your landscape near shelter, such as a shrub or the base of a tree. This is especially attractive to squirrels and other wildlife in the summer. If you live in an area where natural sources of water are frozen during the winter, a water heater, such as the type commonly used in bird baths, can keep the water warm and accessible to squirrels.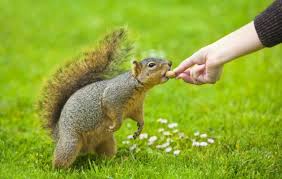 What Is Poisonous to Squirrels?
Many people wish to poison squirrels because they view them as "vermin" that harm crops or spread disease. Other people may be curious as to how squirrels can eat so many foods that are poisonous to human beings, such as acorns and poisonous mushrooms.
Types
Squirrels have a short digestive tract that allows them to handle many foods that humans cannot. Because the foods are not in the system long enough to make a difference, trace amounts of poison found in acorns, mushrooms and other problematic natural foods do not bother squirrels.
Most preferred forms of legal poison for squirrels are anti-coagulation poisons. These interfere with blood-clotting abilities of squirrels, leading to their death.
Prevention/Solution
If you feed "the birds," stray cats or any other animals outside, you are inviting a squirrel problem into your yard. Stop feeding any animals outside, and squirrels will have to forage elsewhere.
Diseases Squirrels Carry
Squirrels are known to carry numerous diseases, though only a few are dangerous to humans. Some of the more common include tularemia, typhus, plague, and ringworm. Such diseases are transmitted through bites or other forms of direct contact with infected squirrels. Tularemia, typhus, and plague have symptoms that mimic the flu and can be deadly when left untreated. While all mammals are capable of getting rabies, squirrels are very rarely rabid.
Parasites and Disease
Other diseases squirrels transmit to humans come from the various parasites they carry. Rife with parasites such as fleas, ticks, and mites, squirrels living in proximity to homes frequently pass these tiny pests on to both humans and pets. Some of the diseases humans can get from the parasites include Lyme disease, Encephalitis, and Rocky Mountain spotted fever.
Avoiding Squirrel Diseases
Keeping squirrels off your property and out of houses is the best way to ensure the health and safety of both homeowners and their pets. While screening and capping vents and chimneys is effective, entry points like windows, doors, and holes in the roof should also be properly sealed.