Facts And Truths About How To Prevent Cockroaches
Using Traps to Get Rid of Roaches
Homemade traps are a great way to attract the roaches to a source and trap them. Although this won't get rid of a huge amount it will at at least keep some pesky roaches away from food and living areas.
Glass Jar Trap
A simple glass jar can be used as an effective trap. You can put any number of attractive things in it including peanut butter, food scraps or coffee. Creating a trap out of a glass jar, water and an attractive meal or smell can get some of those roaches out of your way.
Get an empty, clean glass jar and fill it half way with water.
Smear some vaseline around the inside top of the jar to make it slippery and hard for them to escape.
Add some stuff to attract them e.g. coffee granules.
Mix it up and place in different areas of the house. Once a few roaches have entered the trap and died get rid of them and re-make the trap.
Borax and Sugar Trap
Cockroaches are attracted to the sweet stuff but borax will inevitably kill them so this is a perfect and cheap trap to construct. Don't feel too deterred if you don't find many dead cockroaches with this one as any roach that steps on it will then take it back to the nest and will act as a poison to the rest of them killing them at the source. It is NOT advised to use this method if you have small children or pets as Borax is very toxic if ingested. Keep it out of reach or use a different kind of trap.
Mix equal parts of Borax and sugar.
Put this into a container or tray and place anywhere in the house where you get a high number of roaches. You should see dead roaches within a matter of hours.
Cucumber with an Aluminium Can
Some say this is effective while others don't but have a go and see if it works for you. Apparently the roaches will be attracted to the cucumber but then putting cucumber into an aluminium can causes a chemical reaction that gives off a putrid smell that cockroaches can die from. Not overly sure if this is the case but worth a try!
Get some fresh cucumber peels and an aluminium can.
Rub vaseline on the inside of the can to stop the cockroaches from being able to escape.
Place the cucumber into the can and place in a convenient place.
Check after several hours to see if any have been caught.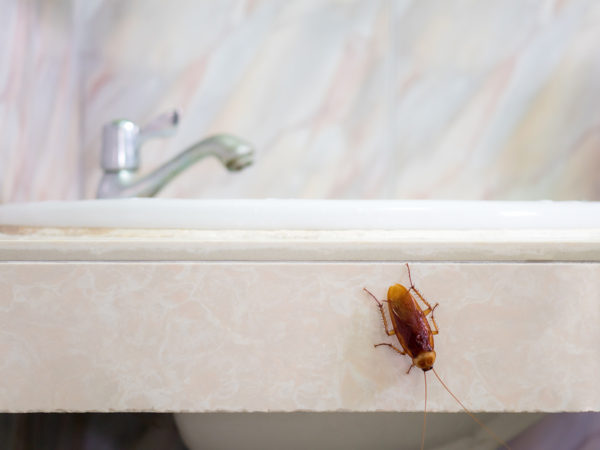 What Attracts Cockroaches to a Clean House?
So what attracts cockroaches to a clean house? Cockroaches are extremely versatile pests. They have a very wide-ranging diet and will eat just about anything you can imagine. They have highly tuned water-finding senses and are experts at hiding. All of these adaptations allow them to survive in just about any environment. Roaches also pose health concerns to humans. They are known to carry diseases and can trigger allergies and asthma. They are also extremely hard to get rid of once you have cockroaches in the house. But how do cockroaches get in your clean house?
Location
Some areas are more prone to cockroaches than others. The southeastern United States, especially Georgia, Florida, and Alabama, are home to a large population of American cockroaches (also known as palmetto bugs). If you live in these areas you can expect to see these pests in your home despite cleaning on a regular basis. Unlike German cockroaches, American cockroaches aren't associated with unsanitary conditions. They may enter your home through a gap in a window seal or through a door that is left open for a prolonged period of time.
Accessibility
Roaches come into your home in search of three things: food, shelter, and water. They have also developed the ability to use even the smallest of openings as an entryway into your house. They can come in through cracks in the exterior walls, dryer vents, or even the gaps between walls and floors. Perform a thorough evaluation of the exterior of your home and seal any entry points you find.
Moisture
Roaches need moisture to survive and this search for water will bring them into even the cleanest of homes. Leaky pipes and faucets are one of the most common attractants for cockroaches and is one of the main reasons you often see them in bathrooms, kitchens, and laundry rooms. They will also hide out under refrigerators and air conditioning units to indulge in their condensation, and even drink from pets' water bowls when left out overnight. Roaches love places that are dark and undisturbed so you can often find them in basements, in the dark corners of cabinets, and underneath large appliances, especially those that use water.
Food Sources
Roaches will seek out food sources wherever they can find them. Despite your best efforts to keep your kitchen spotless, these resilient pests will make do with just about anything to eat. In fact, they have been known to feast on cardboard, wallpaper paste, book bindings, grease, leather, soap, and even human hair. They can often be found hiding out in stacks of cardboard in your attic and garage, books that you've stored away for extended periods of time, and even behind pictures that have been hanging on the walls.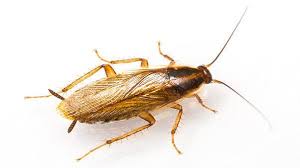 Types of roaches
Roaches have flat, oval bodies with a small head and six legs. Young roaches are pale, but they become darker in color as they mature. There are several different types of roaches in our region, including Oriental (also called water bugs), wood, German, and American roaches.
Oriental roaches, common in Ohio, are black and 1- to 1.5-inches long. Male Oriental roaches have short wings, though they can't fly.
Wood roaches are brown and 1- to 1.75-inches long. Like Oriental roaches, male wood roaches have wings; however, this type of roach can fly.
German cockroaches are brown with dark stripes behind the head, and about half an inch long.
American cockroaches are reddish-brown with wings, and up to 1.5-inches long.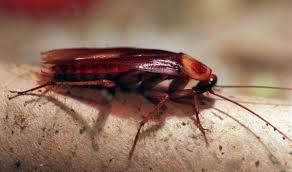 Insecticide Treatment
Although good housekeeping is helpful, insecticides are usually necessary to eliminate infestations, especially of German cockroaches, which are highly prolific. Cockroaches spend little time out in the open; places that are hard to see and reach is where they tend to be. Dark, secluded areas near food, warmth, and moisture are preferred so a bright flashlight helps when performing inspections. Emphasis should be on finding and treating preferred harborage locations, rather than randomly spraying baseboards, countertops and other exposed surfaces. If key harborage areas are missed problems are likely to continue.
Many types of insecticides are available for controlling cockroaches. Most are sold as liquid or aerosol sprays, while some are formulated as edible baits or dusts. Always read and follow product instructions. This will help you to achieve optimal results while using the product safely. Many insecticides require the removal of food and utensils from treated areas. Removing such items often makes areas more accessible for treatment and prevents possible contamination by the insecticide.
Sprays – When using sprays, target the areas where cockroaches prefer to hide. As mentioned previously, this will vary depending upon the species. Be sure to spray any aggregations or areas with fecal spotting. Avoid spraying walls, floors, baseboards and countertops since cockroaches spend very little time in these areas. (Any roaches that do happen to traverse these areas are unlikely to remain on treated surfaces long enough to absorb a lethal dose.)
Dusts – A few insecticides used for cockroach control are applied as dusts or powders. Most familiar to householders are boric acid and diatomaceous earth. For controlling cockroaches, boric acid tends to be more effective. Roaches succumb to boric acid after crawling over treated surfaces. The tiny particles of powder adhere to the insect's body, and are ingested as the cockroach preens them from its legs and antennae. Boric acid retains its potency almost indefinitely as long as the dust deposit remains dry.
Insecticide forms of boric acid are sold in bulk cans or a plastic squeeze bottle with a narrow applicator tip. For best results, the dust should be applied as a fine deposit barely visible to the naked eye. Cockroaches tend to avoid heavy accumulations of the powder, much as we would avoid walking through a snowdrift. The easiest way to apply such a small amount is with a 'bulb' or 'bellows' hand duster sold in hardware stores or online. Key areas to apply boric acid for German cockroaches include crevices along the edges and corners of cabinets; the wall/floor junction behind refrigerator, stove, and dishwasher; and puffed into openings where plumbing from sinks, etc. enter walls. Another potential hiding place for German cockroaches is the void (hollow space) under kitchen and bathroom cabinets. This area can be treated by puffing powder through preexisting cracks at the top of the kick panel. Accessing areas behind dishwashers, stoves, etc., may require removal of the front panel.
Prevention and monitoring
Prevention and monitoring are critical to avoiding a serious cockroach infestation. Fortunately, there are steps you can take at home to limit cockroach activity and prevent future infestations. Store food in sealed containers and keep pet dishes covered.
Keep stove tops, counters and floors clean of grease and food.
Repair plumbing leaks.
Seal cracks and holes near doors, windows and other areas of the home.
Monitor your home for signs of cockroaches: eggs, droppings, shed skins.