How To Select The Best Contractor For Your Roof Inspection Needs
How to Inspect a Roof for Damage
When assessing property for flipping, knowing a bit about roofs and the basics of how to inspect a roof will help you prevent overlooking a costly expense. Depending on the material, square footage, type of roof, slope, architecture, and number of interruptions such as chimneys, skylights, dormers, and vents, a roof replacement can cost thousands of thousands dollars. And because many buyers hire home inspectors, an overlooked needed roof replacement can come to light during the selling process and cost you a property sale.
What to look for When Checking a Roof
You can hire a property inspector that includes a roof inspection when you purchase a property or do this yourself. However when you are evaluating a property before purchase and because you will no doubt check out dozens if not hundreds of homes for sale when looking for deals, hiring an inspector for each one would soon eat all your profits. You can learn the basics of how to inspect a roof, limit unwanted surprises, and save thousands in the flipping business.
While any documentation that tells when the roof was installed or last replaced on a property is valuable, you will still need to check the roof. A visual roof inspection requires knowing what to look for. You can climb up to the roof, use binoculars to inspect the condition or even a drone mounted camera. In addition to the roof, inspect under the eaves and overhangs, the fascia, and guttering for any water damage. Check around all roof interruptions such as skylights, dormers, chimneys, roof mounted antennas or satellite dishes, and vent pipes.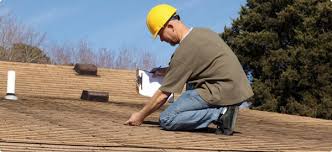 During the inspection, below are some of the things you need to look at:
Inspect Your Roof's Gutters
The first thing we always do when doing a roof inspection is to look at the gutters. If your contractor has a detailed report on the gutter situation of your roof, then that is a good sign they know what they are doing. A contractor should always look at how the gutters are attached. This is because the drip edge cannot be replaced if the gutters are attached through the drip edge. In addition, if there is a gutter guard, then it may need to be removed if a new drip edge is needed, which will cost more in terms of time and labor. While looking at the gutters, the contractor should also take a peek at the underlayments to see what exist there and to get an overall better picture at how the roof was initially constructed.
Make Sure To Inspect Your Roof's Flashing
The flashing is another important detail a contractor should carefully consider when giving an estimate. Without getting up on the roof, they will not be able to tell whether or not it needs to replaced, as well as what kind of flashing it is. If the contractor doesn't bother to check out the flashing, they are is no way they can accurately estimate the cost or what the process will be like. As a result change orders will likely be necessary which can be a major headache for homeowners.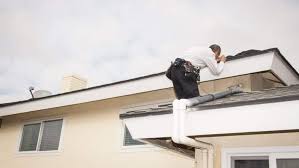 Check the Valleys
Valleys are the places where water runs off of your roof and into your gutters. Water and debris can cause these areas to sustain more wear than the rest of your roof, so take a closer look at those valleys to check for damage and heavy wear.
Inspect Caulking
Materials around vent pipes and chimneys can deteriorate over time. Look for gaps, cracks, missing caulking, or places where caulking is starting to fracture. If your caulking needs work, but the rest of the roof is in good condition, you may only need to caulk. It's best to catch before water damage turns into a big problem.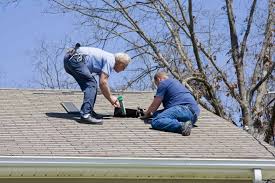 Interior Inspection
Although most people understand the need to have the outside of their roofs inspected, it is recommended that you start examining your roof from the inside. To do this, grab your flashlight and go right to the attic. Here you should check the roof and make sure that there are absolutely no any issues that might cause problems and yet go unnoticed during the exterior inspection. Check out for those areas where the roof deck could be sagging, signs of leaking or water damage, dark spots and trails or any holes in the roof.
Exterior Inspection
Once you are done with inspecting the inside, you need to go right outside to examine the top part of your roofing. Here you should look out for any missing or damaged shingles, algae growth, rotting, blistering or curling. Check whether there are any loose materials or any wearing close to the chimney, pipes, vents or other roof penetrations. You need to look out for large amounts of granules within the gutters as this may be an indication of advanced wear on your roof. Check for the presence of mould or hidden moisture.
The Drainage
To avoid issues of water damage, you need to examine the drainage of your roof. The downspouts and gutters should be securely attached and the drains open to allow for easier exiting of the water. In case the downspouts and trenches are filled with debris, the water from your roof may have nowhere to go, hence start causing problems to your roof. All the kitchen, bath and dryer vents should go right outside of your home. This will help prevent the buildup of moisture in your attic, which could severely damage your roof.
Roofing Materials
There is a wide range of roof types, and the materials that are used on your roof can determine how long your roof will last. In case your roof is made of cedar, you will know that it needs repair or replacement when is becomes mossy or when it starts splitting and falling apart, especially in dry weather. If it is comprised of tiles, then you should check out for cracks, breakages, misplaced or missing tiles. For metal sheet roofs, you need to check out for the presence of rust.
When inspecting your roof, it is also essential to check the supporting materials such as timber and make sure that they have not been infested or eaten away by pests such as termites or wood borers.