Car Upholstery Cleaning Tips
UPHOLSTERY SPOTTING TIPS
Spots and spills on your upholstered furniture are inevitable. But there's no need to panic. Here are some helpful tips to help you treat various types of accidents.
As with all spot treatments, it's important to first test a spotting method in an inconspicuous area and wait to see how it dries. If you detect any change in the original color of your fabric or a water ring forms, do not proceed. Instead, contact our office.
While there is a vast array of spotting products on the market, many of these can cause more damage to your fabric than good. Therefore, the safest spotter we regularly recommend to our customers is Folex. This gentle, residue free spotter is safe for carpet, upholstery and even area rugs! For your convenience, we carry bottles of it at our office and on our trucks. In case of emergency, you can also purchase it at most grocery and hardware stores.
Spotting Steps:
Blot up excess moisture from the spill
Lightly blot with cool water (warm water may set the stain)
Lightly dampen a white cloth with cool water and then spritz the cloth with Folex.
Gently blot the affected area of your upholstery being careful not to rub and fray the material.
Let the spot dry.
Prior to treating any pet contamination spots, it is important to test the spotting method in an inconspicuous area so see how your fabric responds. If you see any change in the original color of the fabric or if a water ring forms upon drying, discontinue spotting and call our office for further assistance.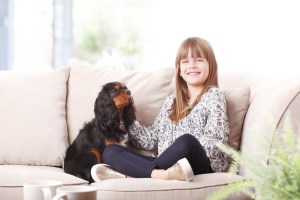 Cleaning Methods & Tips
Here are a few helpful carpet and upholstery cleaning methods and tips for you to try. We specialize in cleaning carpet and furniture fabrics if these methods do not provide the results you hope for.
NOTE: Depending on type and age of carpet or fabric, putting anything on it to clean up a spill could discolour it. This is often true when the whole carpet or furniture piece needs to be cleaned and not just one spot
TIP 1: Only use a white towel, or old clean and well washed towel to blot spills. It has to be absorbent to work properly. Be aware that many fabrics people cut into rags will not work because they are made of fabrics designed to repel staining which is not going to help pick up the stain in your carpet or upholstery.
TIP 2: Blotting up a spill is almost always your best method. Avoid rubbing which can force stains into the fabric making it harder to clean.
General Spills
If you have to clean up a spill, use a towel and place it over the spill.
Step on the towel to blot the spill. Do NOT rub it. Absorbing the stain gently will protect the fibers.
Keep repeating this until dry.
Then mix white vinegar 50/50 with cool water, enough to rinse the area a few times. The vinegar may help to prevent the spill from setting into the fabric and becoming a stain.
Between rinses use more towelling.
Rust
Use some lemon juice you can buy in most grocery stores which has a high acidic level
Drip some lemon juice on the rust spot but do not oversaturate
Use your finger to gently massage the lemon juice into the rust spot
Let this sit for 5 minutes
Return with a white towel and blot the towel on the rust spot
Repeat if necessary.
Pet Stains
Acting quickly to treat urine messes can save your carpet from staining.
Place a white towel on spot to soak up the area and stand on it. Do not rub hard!
Repeat a few times to absorb as much as possible
Mix white vinegar 50/50 with cool water, enough to rinse the area a few times
Between rinses use more toweling
The vinegar mixture rinses your carpet and reduces the risk of discolouration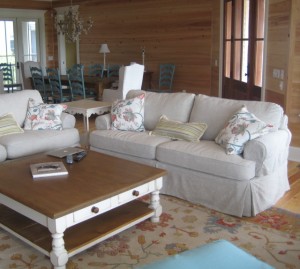 Useful Tips For Upholstery Cleaning
Upholstery cleaning is one of the best ways to keep your furniture looking good and new. You can easily add a touch of elegance to your home by having your upholstery regularly cleaned. Taking care of your upholstery starts during the buying process. When choosing upholstery, you typically factor in the color of your walls, ceiling, carpet and other furniture. But it is also important to take into account the material from which the upholstery is made.
Upholstery fabric suffers wear and tear over time. It helps to know which material are durable and requires less maintenance. Knowing the upholstery material also helps determine which method of upholstery cleaning to do in the future.
After you've done your research about the upholstery materials, you may find that proper maintenance isn't at all complicated. There are certain cleaning methods you can easily do on your own, while others require the assistance of professionals
The following are some tips to keep in mind while cleaning your upholstery:
• Fresh stains are easier to remove than old ones. This means you should try to remove stains as quickly as possible, when it hasn't penetrated yet deep into the fabric.
• A common problem with upholstery is faded colors. Aside from daily use, exposure to direct sunlight as well as to bright neon and halogen lights contributes to discoloration.
• Upholstery made out of natural materials are more prone to wear and tear because these materials are usually sensitive to dry air and low humidity.
• Before cleaning the whole upholstery, consider testing on a small, hidden area to see how the material reacts with the product and method you plan to use. This helps you avoid potential damage to the upholstery when you use the wrong product or cleaning method.
• There are three popular mechanical methods of cleaning upholstery: vacuum cleaning, brush cleaning and rub cleaning.
• Use brushes with soft cloth particularly when cleaning smooth and delicate material.
• Experts suggest cleaning from the outside in. Localize the stains and clean them one after another. This should be done regardless of the cleaning method you are using.
• You have the option of using dry or liquid detergents when cleaning fabrics. It is best to do your research and determine which one to use for each upholstery material. Remember that one product may work great for a certain material but cause damage to another.
• For flax upholstery, never use detergents.
These tips should help keep your upholstery clean and fresh. If you don't have enough experience or you lack access to the necessary products and equipment, then it is best to hire a professional upholstery cleaning service to get the job done for you
Upholstery Cleaning
How to clean upholstery
Professional upholstery cleaning can be expensive, with a typical 8-foot-long sofa costing about $150. That may be worth it for the level of service and expertise you're getting, but if you know what you're doing, you can DIY furniture cleaning.
For small furniture messes, DIY upholstery cleaning can save you money and preserve your furniture. Learn what the upholstery tags on your furniture mean before you DIY
Absorb the stain
Don't let stains set in: It's important to act quickly if you have a spill. Blot liquids with a dry, white absorbent cloth or plain white paper towels. Dab, don't rub, or you risk damaging the fabric. Start at the outside of the spot and continue toward the center to prevent the stain from spreading. Blot until barely damp. Scoop up any semi-solids (like food spills) with a spoon.
Vacuum the furniture
Use all of your vacuum cleaner's upholstery attachments to thoroughly clean up loose pieces of dirt, pet hair and other debris that can make your furniture dirtier.
Identify the types of stains
Food, dirt, pee or poop (from little ones or pets), wine, coffee and other stains respond well to steam cleaning. More stubborn spots may need more than one treatment. For oil-based or other hard-to-lift stains, chemical-based cleaners are required.
Stain Removal Steps
Act Quickly! Most carpet available today has been treated with a stain-resist treatment in the factory, so many spills can be removed if immediate action is taken. Even with that treatment, spills will still settle in. The longer you wait, the higher the probability is that a spill becomes a permanent stain. Remember, staining is influenced by many factors, and no carpet is completely stain proof.
Blot liquids with a dry, white, absorbent cloth or white paper toweling (no printing).
Don't scrub it in! Scrubbing may cause pile distortion in the affected area and push the spills deeper. Continue to use a dry cloth or paper towels until the area is completely dry. For semi-solids, gently scrape up with a rounded spoon. Solids should be broken up and vacuumed until completely removed.
Pretest any spot removal agent in an inconspicuous area to be certain the solution will not damage the fiber or the dye. After applying several drops to the testing area, hold a white cloth on the wet area for 10 seconds. Examine the carpet and cloth for color transfer, color change, or damage to the carpet. If a change occurs, another cleaning solution should be selected.
Apply a small amount of the selected cleaning solution to a white cloth and work in gently.