Understanding Flat Roof Maintenance
6 MOST COMMON FLAT ROOFING PROBLEMS
Whether you own a commercial building, or your home just happens to have a unique flat roof, you know that it often requires more work than other standard types of roofs. While it may have been simpler to build, it requires a lot of maintenance and inspections to keep it up and make sure that everything is functioning as it should. The hard part about a flat roof is knowing whether you need to get it replaced, or if you just need to do a few minor repairs. We've put together a list of the top 6 most common problems that occur in flat roofs, and how best to deal with these issues depending on their severity:
Alligatoring – One of the surest signs that your flat roof needs replacement is a phenomenon called alligatoring. What happens is the asphalt used to build your flat roof has aged and lost its elasticity, causing it to crack and bubble and look something like the skin of an alligator. Unfortunately, this means that your asphalt flat roof has deteriorated past the point of no return, and will need replacement.
Leaks and moisture – Probably the most common problems with flat roofs, leaks and lingering moisture are issues that can be dealt with effectively, as long as you stay on top of them. Just like any roof, a flat roof will develop leaks, but since it's flat, the water doesn't have anywhere to go but straight down. This means that moisture can seep into the roof itself and cause problems that may lead to mold and fungus. The best way to deal with this is to make sure that you have your roof inspected regularly, and maintenanced every time you find an issue.
Buckle in membrane – Most asphalt flat roofs are constructed similarly to shingled roofs in that they are made up of a membrane soaked in asphalt, and then laid across the top of the building to make the roof; unlike shingled roofs, however, the membrane on a flat roof is all one piece. This means that over time, as your house shifts and settles, so too will your roof. Excessive movement can cause buckles in that asphalt membrane, which signals the end of your flat roof's life. A roof that is buckling is not safe to live under, and can cause major problems down the line. It's a good idea to get it replaced as soon as possible.
Pooling water – Since your roof is flat, when it rains or snows, there's nowhere for that precipitation to go. As your home settles over time, the roof itself will shift a bit, meaning it might not be as level as it was when it was first installed. This may cause water to pool in divots and dips in your roof. While most materials are manufactured to hold up to water, you should drain these pools as soon as possible and check to make sure that water didn't seep into lower layers of the roof. If pooling is allowed to linger, it's likely to deteriorate the exterior of your roof, shortening the lifetime of the flat roof.
Crack in roof – Flat roofs tend to have more pressure exerted on them, since they are flat instead of slanted. Sometimes this pressure can build up, and if the pressure and stress become excessive, it can cause your roof to crack. In the event that your roof does crack, you should call a professional immediately. In addition to exposing your home to precipitation, a crack in the roof is often a sign that your roof is structurally compromised, and it's time for a new one.
Flashing – Just like most other materials, asphalt flat roofs tend to expand and contract with changing weather and temperatures. Over time, this continued expansion and contraction can cause the flashing to pull away from the edges and corners of your roof, leading to leaks and moisture that can get trapped inside your roof. The best way to avoid this is to inspect and maintain your flat roof regularly. Once the leaks become significant, or if you have a lot of deterioration in the flashing, you'll be forced to get a new roof.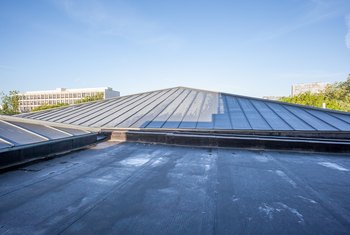 Benefits of a Flat Roof
Not only are flat roofs as capable as their steeper counterparts but they also carry a significant number of advantages as well.
Save money on heating and cooling costs
One of the benefits is the savings in heating and cooling costs that it provides.
Many don't think of this fact, but a steeped roof adds extra space to a structure and the more space there is, the more your heating and cooling systems need to work to fill all of this space with heat or air conditioning. Flat roofs help to control this extra air with slightly less space.
Save money on upfront costs and repairs
Flat roofs are typically less expensive than steep slope roofs, mostly because flat roofs use less material than their sloped counterparts.
Flat roofs are also much easier to install so labor costs are lessened and they are easier to access for maintenance and repairs.
They give you room to build upon it
Flat roofs also have many functional benefits as well because they give you more room to build upon your house. If you want to create a roof garden or install solar panels, the process is much easier to implement on a flat surface.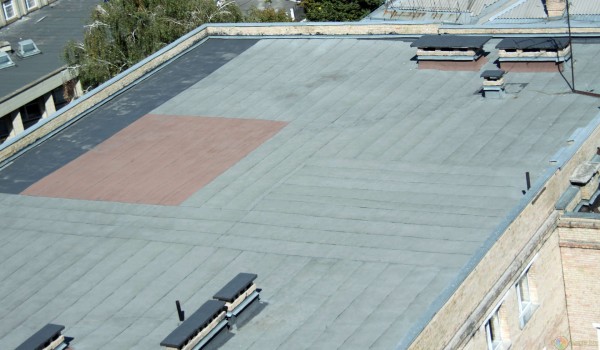 4 Best Flat Roof Materials
PVC Roofing
For many projects, PVC roofing is our preferred choice as the best flat roof material on the market. PVC roofing is somewhat more expensive than other single-ply commercial roofing materials, however it offers a wide range of benefits for the price. First, the reinforced membrane makes PVC roofs resistant to impact damage and the cracking which normally shortens the lifespan of single-ply roofs. PVC roofing is one of the best flat roof materials because it is low maintenance with a long lifespan. At J. Smucker Contracting, we offer a 20-year warranty on new PVC roofing we install. In addition, just like TPO roofing, PVC is a reflective white color which is useful as it dramatically lowers the business's energy bills.
Metal Roofing
A commercial standing seam metal roof is the ideal choice for a building with a roof slope greater than 2 inches. Metal is different from most other commercial roofing material types for a few reasons. Due to the expert installation process and the nature of the material, metal is the most expensive roof type to have installed. However, metal roofing has the longest lifespan, lasting between 20 and 30 years. Metal is an extremely durable material and is immune to cracks that affect single-ply roofs. However, metal roofs can be susceptible to leaks around the seams and roof edges.
TPO
This very popular roof type is also among the best flat roof materials to install. Not only is a TPO roof an inexpensive option, it has a decent lifespan between 10 and 20 years. In addition, these white-coat roofs have all of the same energy saving properties as PVC roofs. Plus, they require less maintenance than EPDM roofs, as the seams are heat welded to prevent leaks.
Modified Bitumen Roof
When compared to other commercial roofing materials, modified bitumen stands out as the more-budget friendly option. Modified bitumen roofs use an asphalt membrane as the base of the roof itself. This surface is susceptible to cracking and blistering which reduces the typical lifespan to just 10 to 15 years. While the lifespan is less than the more advanced options, the price point alone can make modified bitumen one of the best flat roof materials for some businesses.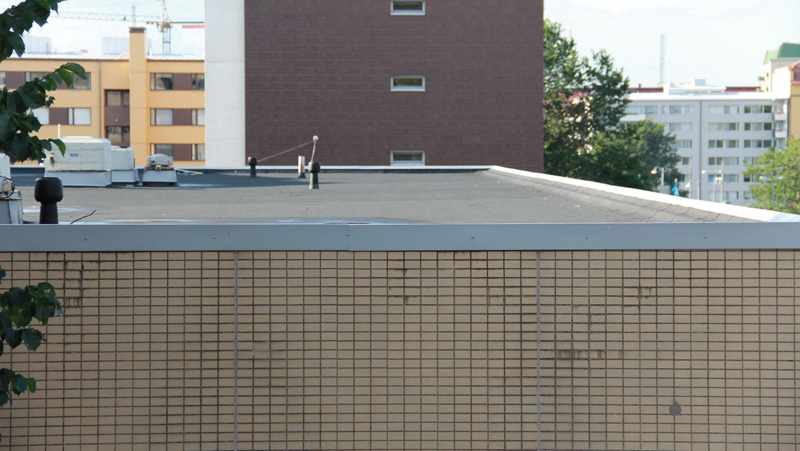 How to Find a Leak on a Flat Roof
The best time to look for a leak is when the roof has been dry for at least three days, and in the evening/night-time, when after cooling down, the flat roof leak 'hot-spot' will release heat that has stored underneath the hole during the day.
If this technique is not possible, below are other ways to detect a leak on a flat roof – and remember to clearly mark the area of the leak when you find it:
Firstly, measure, from the outside wall of the room, along the ceiling to the damp spot/dripping area. You may find, especially on more slanting flat roofs, that there is no damage or ponding of water above this marker.
Next, it's time to look directly upwards of this area for somewhere that could cause the leak – usually around obstacles or junctions – for example, step or metal flashing that has come loose due to heat expansion and may need replacing or repairing (around chimneys and skylights). Check for loose tar and materials that may provide gaps in which rain water could seep through – if it can be pried back under inspection, then water can get into it.
The sun's heat can cause movement of a roof structure, creating splits or cracks and whilst the roof felt's flexibility should be able to withstand this, be observant for small areas of damage by clearing away leaves, chippings or other debris. Check any seam in the roofing material, as any gap or hole could be the culprit causing the leaking roof.
Check that there are no missing roof nails, or excessive rust damage on existing ones, as these may be causing the leak. At the same time, inspect the guttering around the flat roof for blockages or leaks that are accelerating the deterioration of the leakage area.
Plants should be kept for internal flower pots and in garden beds, so if you see any on the flat roof, this could be another place where water is collecting and where the leak could potentially be.
If there are any flaws in the top layer, like additional roofing tar patches or caulking, these are temporary patches that may have deteriorated quickly due to poor application.
Should you still not be able to find the leak, it is time to start adding water, with a hosepipe or manually applied, to the roof in small sections, whilst someone checks the inside ceiling. Remember, water takes the least resistant path to get to where the dripping/damp patch is, so do not predict the leak to be directly above it. This process can be time consuming and the more detailed and regimented that it is executed, the more accurate it can be in determining the location of the damage on the flat roof.
The Pros & Cons of Flat vs. Pitched Roofing
If you are planning to add a new roof to your home or shed, be sure to consider all the available options. Pitched roofs come in a variety of styles, such as gable, cross gable and hipped, all of which are sloped to different degrees. Flat roofs have no slope, and are available in built-up, single-ply and sprayed polyurethane foam designs. Consult with a roofing contractor to determine which roofing option is best for your individual needs.
Maintenance
Both flat and pitched roofs require regular maintenance. However, although pitched roofs may be more difficult to clean and inspect, due to the sloped structure, flat roofs often require more maintenance throughout the life of the roof. Flat roof drainage is not quite as effective as a pitched roof's, and without regular inspection, drains can become clogged, leading to damage and leaks. The roof requires a waterproof seal, which must be maintained regularly to prevent leaks and costly repairs. Many flat roof leaks are due to a lack of regular inspection and maintenance, so be sure that you have the time to check your roof regularly if you choose a flat roof for your property.
Cost
According to Improve Net's online roofing calculator, a flat roof is significantly cheaper than a pitched roof. A 900-square-foot flat roof in the San Francisco area, made of concrete tiles, costs approximately $6,108 to $7,635, whereas a moderately pitched roof with the same specifications ranges from $7,878 to $9,848. Of course, if you live in an area that receives a large amount of rainfall each year, any money you might save in flat roof installation costs might be compensated for in future repairs. Flat roofs' repair costs are more expensive than pitched roofs' are, and because they are less prone to moisture damage, a pitched roof may be more affordable in the long-term.