Advice For Painting Your Ceiling
Suspended Ceilings – What Types Are There?
The best part of suspended ceilings is that they can be installed using DIY methods; thus, you can save cost on professional services. However, a little know-how of ceiling installation and use of tools and equipment is required if you want to opt for DIY methods.
If you are contemplating the idea of getting a suspended ceiling installed in your room, you must be aware of its different types available in the market. In this article, we have covered all the common types of suspended ceilings. Continue reading further to know about them.
Concealed Grid Suspended Ceilings
If you want a smooth and clean look with your suspended ceiling, opt for concealed grip. This type of suspended ceiling hides the grid system using acoustical tiles. The advantage of installing concealed grip suspended ceiling comes in form of its appealing and aesthetic look. On the flip side, it doesn't allow easy access to areas above the ceiling for repair purposes. Moreover, it can prove to be expensive as compared to other types.
Gypsum Board and Plaster Suspended Ceilings
This type of suspended ceiling is commonly used in different parts of public buildings such as theatres, lobbies, and auditoriums etc. A gypsum board and plaster suspended ceiling can either be screwed to simple light gauge steels or some special framing components can be used for this ceiling. While simple light gauge steels are suspended on wires, special framing components are specifically developed for this type of ceiling that are available in different complex shapes.
The major benefit of installing a gypsum board and plaster suspended ceiling is the value it adds to your room. It has a distinct design, which will give your room a contemporary look.
Exposed Grid
It is a common and inexpensive type of suspended ceiling. The factor that set exposed grid suspended ceiling apart from other types is its composition. It has long metal strips known as mains. These mains are connected to each other using tees. Tees are the short metal pieces.
Tees and mains combine to make a grid system. Acoustical ceiling tiles are used to fill the said grid system. Around each tile of the exposed grid, there is a standard metal frame. This frame is available in different measurements.
Fire Resistance Rated Suspended Ceilings
This type of suspended ceiling is preferred due to its resilience against fire. It is made of a specifically designed material that resists fire. Installation of fire resistance rated suspended ceilings is a process that must be performed by experts as it requires ample knowledge and skills. Moreover, lighting fixtures used in this type of ceiling must also be backed up using a material that is resistant to fire. Simply put, each part of this type of suspended ceiling including the panels that give access to repair and maintenance of ducts and pipes must meet fire resistive requirements.
Suspended Drywall Ceilings
A suspended drywall ceiling uses hangers and wires instead of metal grids. If you do not want to spend a huge amount of money on suspended ceilings with frame, you can opt for this type of suspended ceiling. It gives an aesthetic look because of its different design.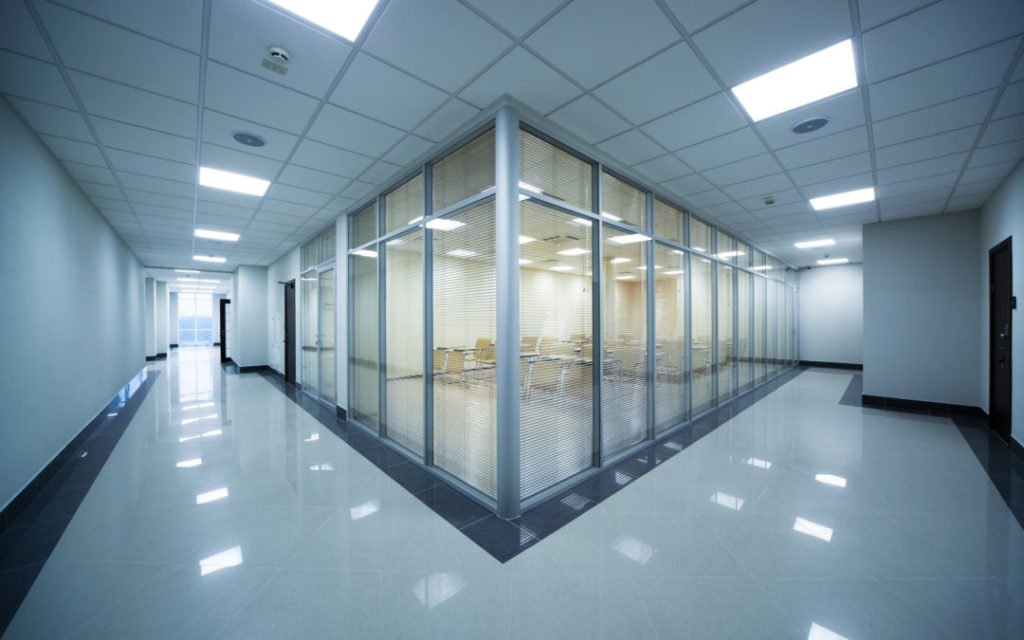 Ceiling Tile Materials and Design
Ceiling tiles come in an infinite variety of textures and designs. Most ceiling tiles are made from mineral fiber, but other materials are available, such as fiberglass. Mineral fiber tiles typically have a high Noise Reduction Coefficient (NRC), which means they are good at absorbing sound within a space to prevent echo or loud environments. While some tiles have a high Ceiling Attenuation Class (CAC), meaning they prevent sound from passing through the ceiling to another space, acoustic ceiling tiles are generally not used to provide privacy between spaces.
In addition to tile material, there are a wide variety of designs available. Tiles may have a rough appearance or a smooth appearance. Tiles may also have designs imprinted in them or other patterns scored into the tile.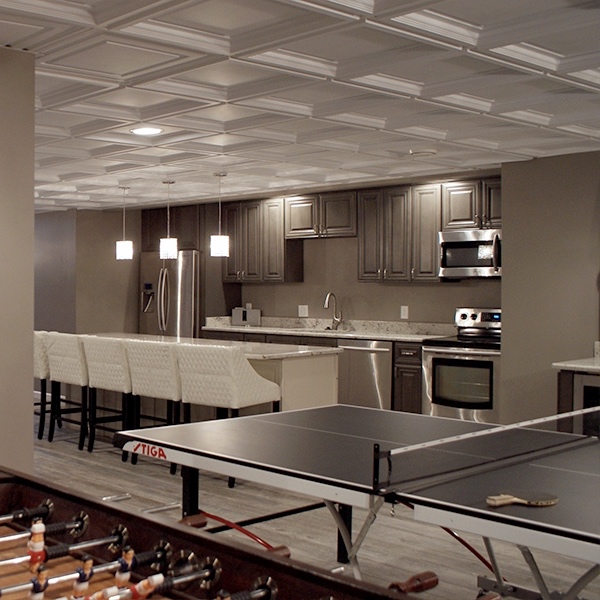 Ceiling Features
If you're having noise issues, you can conveniently add a sound absorbing ceiling to your space that dampens the sound within a room and helps block sound between rooms with a suspended/drop ceiling. In addition to acoustics, eliminate the worries of staining and sagging with these ceiling options and gain moisture performing benefits that are ideal for a basement.
It's important to remember that different types of ceilings offer a variety of functionality. It's never been more important to make choices that simplify our lives, especially when it comes to the task of cleaning. Selecting easy-to-clean, time-saving materials for your new ceiling is possible with our wide selection of wood, coffered or metal products that are ideal for kitchens or half baths where cleanup is easier than ever.
A Few Good Reasons to Choose a Drop Ceiling vs. a Drywall Ceiling
Easy
Home improvement enthusiasts agree hands down that a drop ceiling project can be easily and quickly tackled by most home owners. It is not difficult to install, does not create a mess and is fairly quick to complete.
Decorative
When it comes to decoration and design, your options are endless with a drop ceiling. Simply browse our website and you will understand why.
Practical
One of the biggest benefit to a drop ceiling is that you have easy access to plumbing, wiring, and duct work. If any maintenance issues arise, you can simply remove a ceiling tile. If a tile gets damaged, simply remove it and replace it.
How are suspended ceilings installed?
To install a suspended ceiling, the first stage is to measure the dimensions of the room to be able to accurately design the suspended ceiling grid.
Once the dimensions have been accurately taken, the drop of the ceiling needs to be determined to measure around the perimeter of the room. By effectively measuring and marking the drop of the ceiling, this prevents any nasty surprises when the grid is fitted.
The false ceiling is hung from a bracket fixed to the underside of the floor slab, supporting a series of interlocking metal sections that form the grid. Beam systems are also available, in which tiles are laid between parallel beams rather than a grid, and there are a wide range of different grid profiles and tile edge details that can be used to allow the grid to be exposed, flush, recessed or concealed.
When the grid has been fitted, installations can be made for lighting, speakers, air conditioning and anything else that needs to be concealed within the ceiling.
The final stage is to place the chosen tiles within the frame to complete the finished suspended ceiling. There are a variety of tiles that can be used, dependent upon the chosen aesthetic.